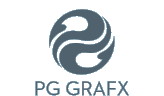 Welcome to PG Grafx, the portfolio site of graphic designer Pete Gascoyne.

To explore the site, select the main navigation buttons at the top or the arrow or round buttons at the bottom.

If you do not see the animation on this page, please
download Adobe Flash Player. It is required to view some content on this site.